Ergebnisse anzeigen für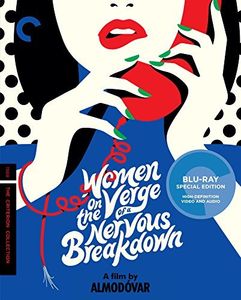 Preview
Women on the Verge of a Nervous Breakdown (Criterion Collection)
Version

21.02.2017

Film- und TV-Genre

Comedy Video, Foreign-Spanish

Medienformat

Blu-ray

Bitte beachten. Sofern nicht anders angegeben, sind alle BLU-RAY REGION A und alle DVD REGION-1-Codierung sind. Vor dem Kauf, stellen Sie sicher, dass Ihre Ausrüstung können Wiedergabe dieser Regionen. Weitere Informationen über die Regionalkodierung finden Sie den Link unten:
Produkt-Hinweise
Women on the Verge of a Nervous Breakdown (Criterion Collection) - 1988 - BLU-RAY
Pedro Almodóvar makes telephones, a mambo taxi, and a burning mattress into delirious plot points and indelible images in his international breakthrough, Women on the Verge of a Nervous Breakdown. Melding melodrama with screwball farce, this Academy Award–nominated black comedy secured the auteur's place at the vanguard of modern Spanish cinema. Continuing Almodóvar's exploration of the female psyche, the film tells the story of Pepa, an actor—played by the director's frequent collaborator Carmen Maura (Volver)—who resolves to kill herself with a batch of sleeping-pill-laced gazpacho after her lover leaves her. Fortunately, she is interrupted by a string of visitors, setting in motion a deliciously chaotic series of events. The filmmaker channeled inspiration by the likes of Alfred Hitchcock and Douglas Sirk into his own unique vision, arriving at the irreverent sense of humor and vibrant visual sense that define his work today. With a sensational ensemble cast of early Almodóvar regulars that also includes Antonio Banderas (Evita) and Rossy de Palma (Tie Me Up! Tie Me Down!), this film shows an artist in total control of his craft.
DIRECTOR-APPROVED BLU-RAY SPECIAL EDITION FEATURES
New high-definition digital restoration, supervised by director Pedro Almodóvar and producer Agustín Almodóvar, with 2.0 surround DTS-HD Master Audio soundtrack
Alternate 5.1 surround DTS-HD Master Audio soundtrack
New interviews with director Pedro Almodóvar, actor Carmen Maura, and producer Agustín Almodóvar
New discussion by film scholar Richard Peña of the film's impact in Spain and abroad
Trailer
New English subtitle translation
PLUS: An essay by critic Elvira Lindo
PLUS:
DIRECTOR: Pedro Almodóvar
FEATURES:
COMEDY
WIDESCREEN
COLOR
ASPECT RATIO: 1.85:1
2.0 SURROUND DTS-HD MASTER AUDIO
89 Minutes
LANGUAGES: SPANISH
ENGLISH SUBTITLES
RATED: NR