Ergebnisse anzeigen für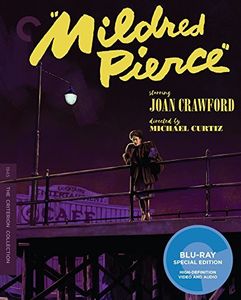 Preview
Mildred Pierce (Criterion Collection)
Version

21.02.2017

Film- und TV-Genre

Drama, Suspense-Film Noir

Theme

Academy Award Winner

Medienformat

Blu-ray

Bitte beachten. Sofern nicht anders angegeben, sind alle BLU-RAY REGION A und alle DVD REGION-1-Codierung sind. Vor dem Kauf, stellen Sie sicher, dass Ihre Ausrüstung können Wiedergabe dieser Regionen. Weitere Informationen über die Regionalkodierung finden Sie den Link unten:
Produkt-Hinweise
Mildred Pierce (Criterion Collection) 1945 BLU-RAY
Melodrama casts noirish shadows in this portrait of maternal sacrifice from the Hollywood master Michael Curtiz. Its iconic performance by Joan Crawford (Johnny Guitar) as Mildred, a single mother hell-bent on freeing her children from the stigma of economic hardship, solidified Crawford's career comeback and gave the actor her only Oscar. But as Mildred pulls herself up by the bootstraps, first as an unflappable waitress and eventually as the well-heeled owner of a successful restaurant chain, the ingratitude of her materialistic firstborn (a diabolical Ann Blyth) becomes a venomous serpent's tooth, setting in motion an endless cycle of desperate overtures and heartless recriminations. Recasting James M. Cain's rich psychological novel as a murder mystery, this bitter cocktail of blind parental love and all-American ambition is both unremittingly hard-boiled and sumptuously emotional.
BLU-RAY SPECIAL EDITION FEATURES
New 4K digital restoration, with uncompressed monaural soundtrack
New conversation about Mildred Pierce with critics Molly Haskell and Robert Polito
Excerpt from a 1970 episode of The David Frost Show featuring actor Joan Crawford
Joan Crawford: The Ultimate Movie Star, a 2002 feature-length documentary on Crawford's life and career
Q&A with actor Ann Blyth from 2002, conducted by film historian Eddie Muller
Segment from a 1969 episode of the Today show featuring novelist James M. Cain
Trailer
PLUS: An essay by critic Imogen Sara Smith
Studio: CRITERION COLLECTION
Cast: Joan Crawford, Jack Carson, Zachary Scott, Eve Arden, Ann Blyth
Director: Michael Curtiz
Cinematographer: Ernest Haller
Editor: David Weisbart
Year: 1945
Language: English
Video: 1080p
Rating: NR
Crime, Drama, Film-Noir, Mystery, Romance