Ergebnisse anzeigen für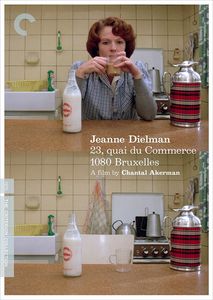 Jeanne Dielman, 23, Quai Du Commerce, 1080 (Criterion Collection)
Version

09.05.2017

Film- und TV-Genre

Drama, Foreign-French

Medienformat

DVD

Bitte beachten. Sofern nicht anders angegeben, sind alle BLU-RAY REGION A und alle DVD REGION-1-Codierung sind. Vor dem Kauf, stellen Sie sicher, dass Ihre Ausrüstung können Wiedergabe dieser Regionen. Weitere Informationen über die Regionalkodierung finden Sie den Link unten:
Produkt-Hinweise
Jeanne Dielman, 23, quai du Commerce, 1080 Bruxelles
Criterion Collection Special Edition
A singular work in film history, Chantal Akerman's Jeanne Dielman, 23, quai du Commerce, 1080 Bruxelles meticulously details, with a sense of impending doom, the daily routine of a middle-aged widow (Delphine Seyrig)—whose chores include making the beds, cooking dinner for her son, and turning the occasional trick. In its enormous spareness, Akerman's film seems simple, but it encompasses an entire world. Whether seen as an exacting character study or one of cinema's most hypnotic and complete depictions of space and time, Jeanne Dielman is an astonishing, compelling movie experiment, one that has been analyzed and argued over for decades.
TWO-DVD SPECIAL EDITION FEATURES New 2K digital restoration undertaken by the Royal Belgian Film Archive, supervised by director of photography Babette Mangolte Autour de "Jeanne Dielman," a 69-minute documentary—shot by actor Sami Frey and edited by Agnes Ravez and director Chantal Akerman—made during the filming of Jeanne Dielman Interviews from 2009 with Akerman and Mangolte Excerpt from "Chantal Akerman par Chantal Akerman," a 1997 episode of the French television program Cinéma de notre temps Interview from 2007 with Akerman's mother, Natalia Excerpt from a 1976 television interview featuring Akerman and actor Delphine Seyrig Saute ma ville (1968), Akerman's first film, with an introduction by the director PLUS: A booklet featuring an essay by film scholar Ivone Margulies
Chantal Akerman - director
Delphine Seyrig - lead actor
1975 released
street date: 5/9/2017
DRAMA
WIDESCREEN
aspect ratio 1.66:1
COLOR
201 MINUTES
UNCOMPRESSED MONAURAL PCM
ENGLISH SUBTITLES
Country of Origin - BELGIUM, FRANCE
CANADA AVAILABILITY - ENGLISH-SPEAKING CANADA